mbl C51 Integrated Amplifier
MBL là một thương hiệu nổi tiểng đến từ nước Đức, trong đó có dòng Integrated Amplifier với rất nhiều các sản phẩm nổi tiếng, giờ đây đã có mặt tại Audio Huylananh và được phân phối khắp thị trường Audio cả nước.
Integrated Amplifier mbl C51
The system's heart or motor, the amplifier, has a special role to play as it carefully "amplifies" the delicate musical signal and controls the loudspeaker, enabling all pieces of musical information to be bundled into a meaningful whole. The MBL Corona C51 provides the strong-hearted foundation of a simpler system by carefully combining the functions of the preamp and amplifier in one elegant chassis. No compromises here, discrete components fill the input section, MBL's trail-blazing LASA technology provides a powerful and efficient amplifier MBL to its core. For optimum channel separation and a distinct, true-to-life musical image, MBL have crafted the input stages from carefully selected discrete components. The MBL Corona C51 provides full listening pleasure in half the space.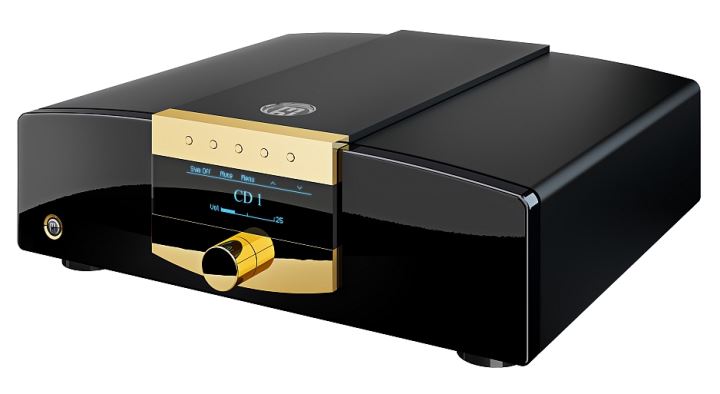 The Corona line, which includes the C51 integrated amplifier under review, was designed under the guidance of the new company head, Mr. Christian Hermeling. It currently represents MBL's entry-level line, followed by the Noble and top Reference line. Previously, MBL's product lineup started with the Classic series. The Corona is not, however, its direct successor as products from the Classic line were relatively—for high-end, that is—inexpensive, two or three times cheaper than their counterparts from the new entry-level line. Design and assembly solutions are also quite different between the two lines. MBL now use enclosures that are as solid as those used in products from the more expensive models, but with a different shape. These are no longer regular rectangular boxes, but their top is gently curved down at the sides, with a distinctive flat surface in the center. This is where all the controls are located, including a large display. While the C51 comes in two main color finishes, black and silver, more options are available for metal details on the front panel, including the volume knob. They can be ordered in gold or chrome (the company calls the latter "palinux", which may denote a special alloy) and there is a choice of black, chrome or gold finish of the top panel central section that sports an illuminated MBL logo and display dimmer button.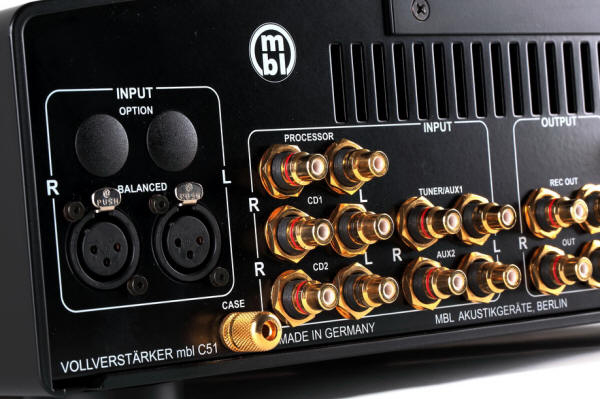 Although this is an amplifier, no cooling vents are in sight. They are only to be found at the rear, but they are not too big. The RCA connectors visible below are of high quality, a real deal. Gold-plated speaker binding posts are quite solid, although not of the same quality. There are six line inputs that are divided into three groups. The first group includes a single pair of balanced XLRs. A pair of plugs above them may be pulled to install an extra pair of RCA input connectors (analog) or digital inputs. The latter need an optional DAC board. The second group includes CD1, CD2, and Processor inputs (e.g. for home theater). Adjacent to them are two more pairs labelled Tuner/AUX1 and AUX2. While they look the same, their input impedance is different, 5k Ohm vs. 50k Ohm, respectively. It looks like the lower impedance inputs offer a shorter signal path, without an input buffer.
SPECIFICATIONS
General
Weight 23 kg / 50.7 lbs
Dimensions (without cables)
W 45,0 cm / D 44,5 cm / H 14,5 cm
W 17.7 in / D 17.5 in / H 5.7 in
Dimensions with packaging
W 59,0 cm / D 54,0 cm / H 35,5 cm
W 23.2 in / D 21.3 in / H 21.9 in
Line Voltage 230 Vac / 50 Hz or 115 Vac / 50/60 Hz (single voltage, factory setting depending on country)
Power consumption
in stand by : < 0.5 VA
in idle : < 70 VA
Maximum : < 1000 VA (w. 2 x 300 W @ 4 Ohm)

Connections
Inputs
RCA unbalanced 2 x MBL CD1 / CD2 , 2 x Tuner AUX1 / AUX2 , 1 x Processor By-Pass
XLR balanced (unity gain) 1 x Symmetrical
Options 1 x optional 2nd Symmetrical In (XLR) or
1 x optional Phono Module (RCA)
Outputs
RCA unbalanced 1 x Variable Out , 1 x Fixed Record Out
Loudspeaker 1 x pair Loudspeaker Binding Posts
Other Ground Terminal , 2 x MBL SmartLink
Preamplifier Section
Output Level / Maximum Output
Variable unbalanced RCA Outputs
0 … 5 V @ 2 V Input, max 1.7 V *1(According to Volume Setting)
*1: Input Voltage for Rated Power
Fixed Record Output 2 V @ 2 V Input, max. 8 V
Nominal / Maximum Input Level (All Inputs except Phono)
2 V / 8V (According to Volume Setting)
Absolute Polarity In-Phase (RCA / XLR Pin2)
Frequency Range (All Inputs and Outputs except Phono) DC - > 200 kHz
Output Impedance
All RCA Outputs 100 Ohm
Input Impedance
CD and Processor By-Pass Inputs ≥ 5 kOhm
AUX Inputs 50 kOhm
XLR Input 10 kOhm
Signal to Noise Ratio (All Inputs and Outputs except Phono)
> 110 dB (A) @ 2 V Input, Volume set to 0 dBr / unity gain
Channel Separation (All Inputs and Outputs except Phono)
> 100 dB @ 1 kHz
Total Harmonic Distortion + Noise (All Inputs and Outputs except Phono)
< 0.001 % @ 2V Input / 1kHz, Volume set to 0 dBr / unity gain
Power Amplifier Section
Rated Power
Stereo 4 Ohm 2 x 300 W
Stereo 8 Ohm 2 x 180 W
Stereo 2 Ohm 2 x 400 W
Peak Output Voltage 62 Vp
Peak Output Current 20 Vp
Input Sensitivity (RCA / XLR) 100 mV for 1 W @ 4 Ohm
Rated Input Voltage (RCA / XLR) 1.70 V for 300 W @ 4 Ohm
Voltage Gain 20 (26 dB)
Absolute Polarity In-Phase
Signal / Noise Ratio @ Rated Output 122 dB (A) @ 300 W / 4 Ohm
Signal / Noise Ratio @ 1 Watt 98 dB (A) @ 1 W / 4 Ohm
Equivalent Input Noise 124 dB (A) @ 2 V Input
Frequency Response < 10 Hz – 45 kHz
Distortion THD+N Typ. 0.01 % @ 3 W from 20 Hz … 20 kHz
Damping Factor > 100 (40 dB) @ 1 kHz / 4 Ohm
Channel Separation > 90 dB @ 1 kHz