Marten FormFloor
Loa cột Marten FormFloor cao 1 m với màn loa đường kính 16,3 cm. FormFloor là đôi loa cột 2 đường tiếng được trang bị một củ loa mid-bas gốm 7 inch và một củ loa treble ribbon 2,2 inch với thùng loa hình tam giác tối ưu sóng âm, đặc biệt loa siêu trầm FormSub được tích hợp ampli Class D 400W có khả năng xuống sâu đến 19 Hz.
Marten - FormFloor
The Form Series represents a new concept of loudspeaker design from Leif Marten Olofsson, chief designer and founder of Swedish manufacturer Marten. After creating award-winning loudspeakers that have reached out to audiophiles around the world, he wanted a new challenge—to create a beautiful and simple geometrical form that would fit into the interior of any contemporary home, yet provide the high-end sound quality and cabinetry for which Marten loudspeakers have become so well known.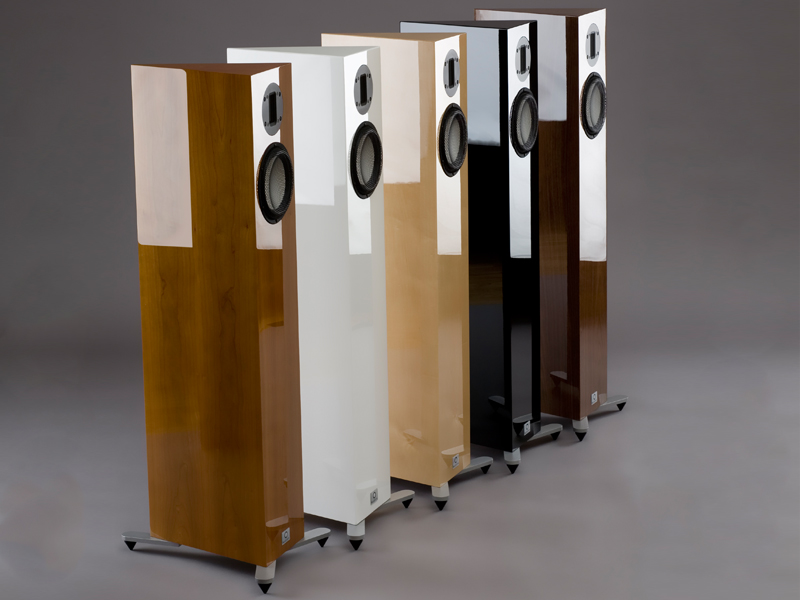 The FormFloor may be affordable, but it's also a genuinely high-end 2-way floor speaker offering striking looks and excellent sound reproduction. Its ribbon tweeter delivers a smooth, open treble sound image, its fast response working very well with the ceramic mid-range and bass units. The triangular shape makes for an optimal sonic performance. By adding the FormSub you can create a real full range system that goes down to 19 Hz – giving you real power.
Closer inspection to the details of the design reveal why the FloorForms are so special: the 7-inch woofer is ceramic, not a plastic, paper, or metal component. Ceramic midrange/woofer drivers are shockingly expensive, so they're rarely used in speakers in the FormFloor's price range. The 2.2-inch ribbon tweeter has resolution that's superior to standard dome tweeters.
FINISHES

SPECIFICATIONS
| | |
| --- | --- |
| Frequency range | 36-40000 Hz +-3dB |
| Power rating | 150 W |
| Sensitivity | 87 dB/w/m |
| Impedance | 8 ohm (5.9 ohms min) |
| Type | Ported system, port resonance 34 Hz |
| Drive units | One 7" ceramic-mid, 2.2" ribbon-tweeter |
| Crossover frequency | Second order, 3000 Hz |
| Terminals | Single wire binding posts |
| Cabinet | 19mm MDF |
| Dimensions (WxHxD) | 21 x 110 x 33 (8.3 x 43.3 x 13") |
| Net weight | 17 kg (37.7 lbs) |