Elegance dB11-S
- Loại: Loa cột 3 đường tiếng, bass-reflex - Đáp tuyến tần số: 21–30.000Hz - Độ nhạy: 89dB - Trở kháng: 4 ohm - SPL tối đa: 115dB - Kích thước: 470 x 1.290 x 795mm - Trọng lượng: 80kg
Elegance dB11-S
In the world of standard dynamic loudspeakers the dB11-S presents a never before achieved level of excellence in performance and design and a synergy in acoustical, electro-mechanical and aesthetical design. Multidisciplinary engineering on avoiding structure born and non-structure born resonances supporting the holy grail of unrevealing complex musical sound scapes and reproducing them, all in a compact nice aesthetical designto bring pleasure for many years to the user.
Innovation Award
Kharma is very proud to present the new Elegance dB11-S, which has been rewarded with the CES Innovations Award of 2014.The new speaker was judged upon different fields of engineering, aesthetic design qualities, user's value and of course it's innovative element.The dB11-S is judged by a pre-eminent panel of independent industrial designers, independent engineers and members of the trade media tohonour outstanding design and engineering in cutting edge consumer electronics products across 29 product categories.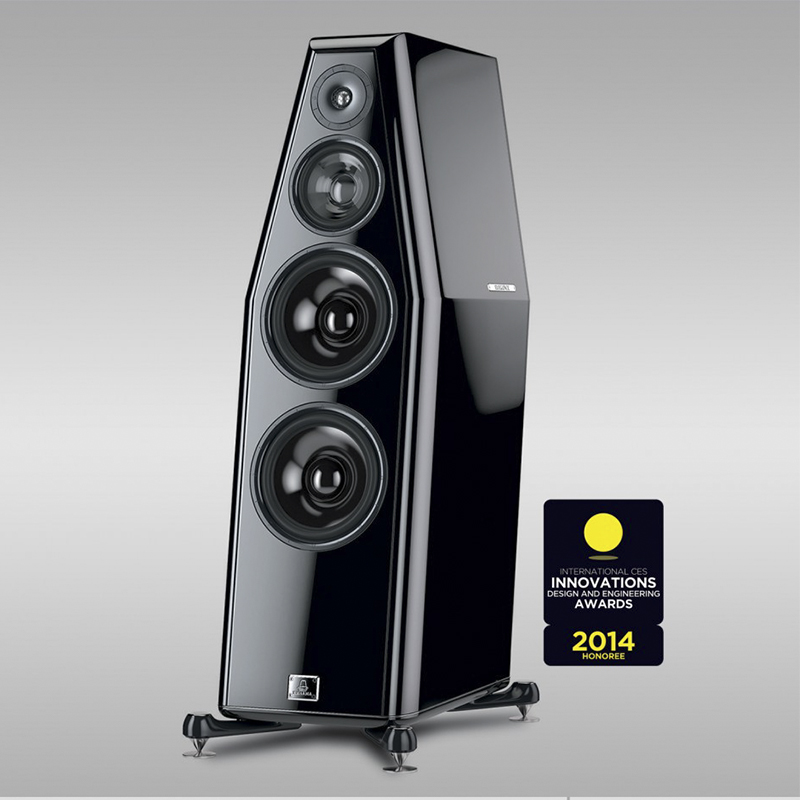 Elegance dB11-S: Specifications
System features
The new cabinet is partially made of Kharma Bullet Proof Laminate (specific density > 1,25g/cm3). This material is a very high pressure laminate treated with a special coating. The KBPL increases rigidity compared to techniques used in the past, while the coating and dampening eliminates the last traces of resonance.

The Kharma Elegance dB11-S presents the ultimate synergy in sound reproduction with dynamic transducers.Each part of the design constitutes the maximum possible at current times. The acoustically perfect shape of cabinet with polygone slanted, angled baffle supports seamless transitions in the crossover regions between the drivers and off-axis group delay behavior. Result is that the reflections of sidewalls in the room are more phases coherent and build up more realistic 3D imaging with the direct perceived.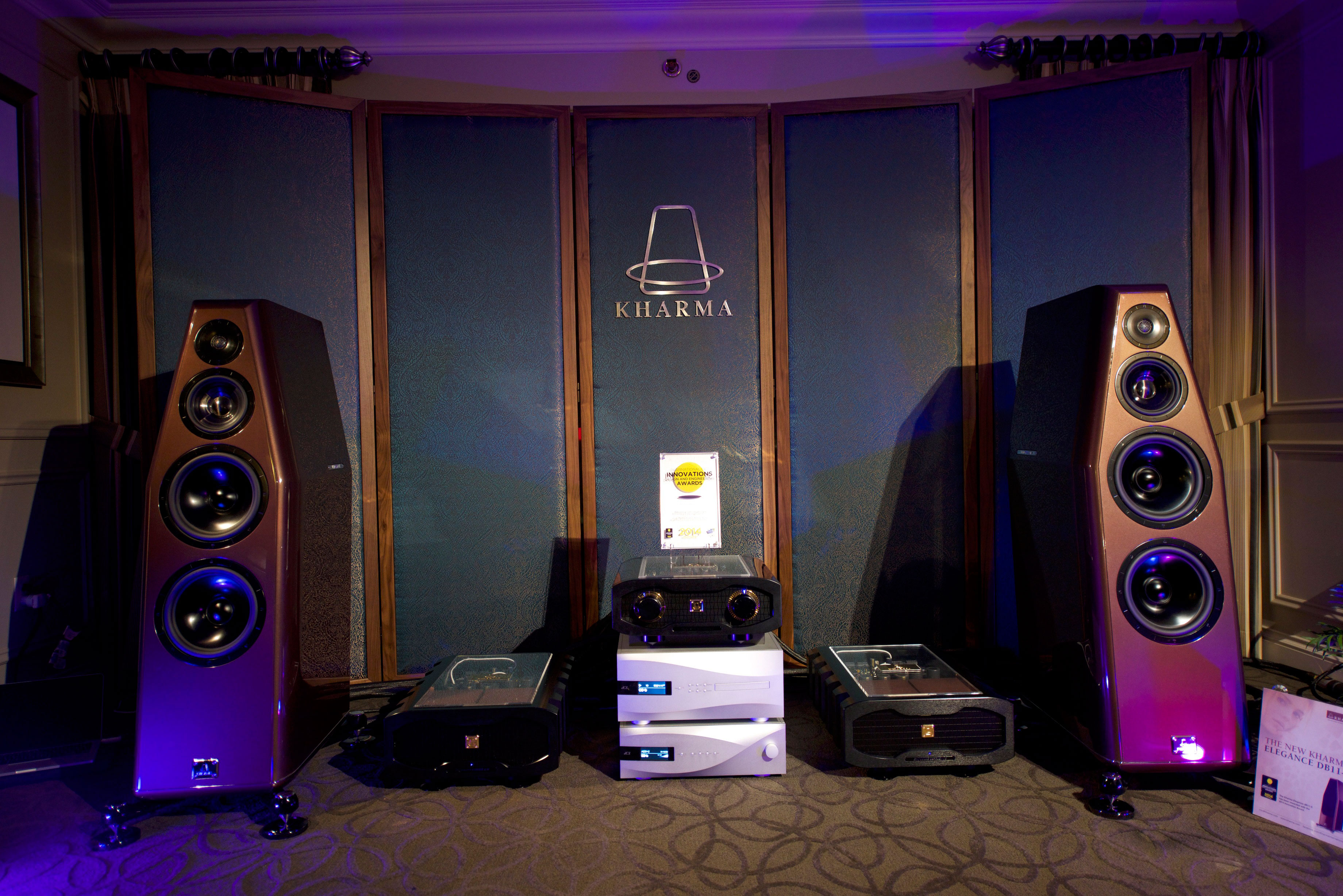 | | |
| --- | --- |
| Type | EL-dB11-S-1.0 |
| System | 3-way |
| RMS Power | 380 Watt |
| Program power | 760 Watt |
| Frequency range | 21 Hz – 30 kHz |
| Impedance | 4 Ohm |
| Efficience 2,83V / 1m | 89 dB |
| Maximum SPL | 115 dB |
| Connections | kharma Bi-wire terminal |
Elegance dB11-S: Options
A Kharma product must not only have an unbelievable refined sound, which meets the needs of a true music lover, but also must have an astonishing finish to compete with the musicality of the system. As known by Kharma, every customer can have a taste of its own. Therefore Kharma developed two programs to be able to fulfil all levels of customization.
Primary Stock Program
This program has been targeted as to create the shortest possible delivery time for the official Kharma products. This program is therefore based on the most popular Kharma finishes, which have proven their looks in the past by many successful sales. In this way we can deliver both the high refined sound as the astonishing finish that can be expected from Kharma.
Kharma Optionary Program
The visual tuning in the Optionary Program will give the customer the opportunity to choose between special selected Kharma colours. These colours have a higher level of customization and therefore the delivery time will be slightly longer than a Stock Program colour.
Colours shown only give an indication of the real paint colour, contact your dealer for references.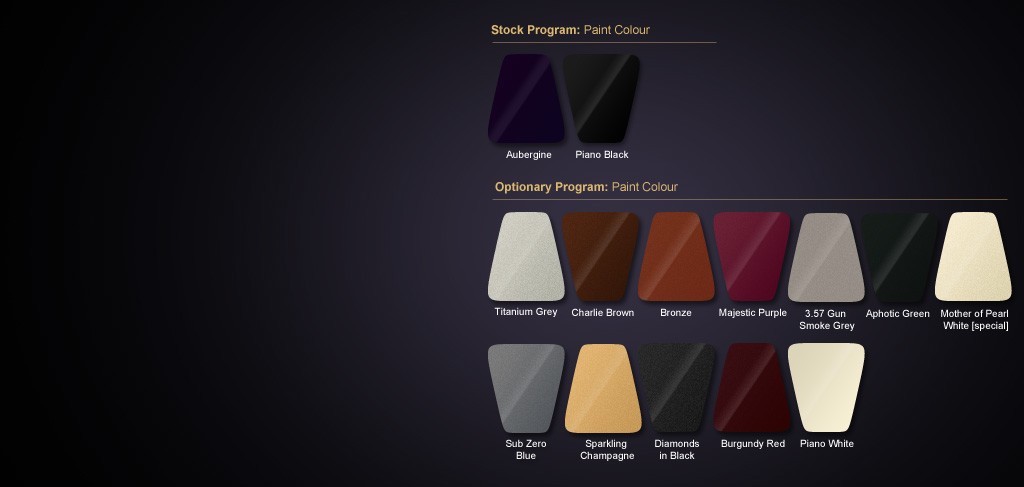 Sản phẩm khác