Tonarm TA 700
TA-700 is our new entry into the world of Acoustic-Signature arms.
All the experience we have is built into this new magic tone arm.
The Bearing
We use only Bearings from a well known japanese Manufacturer for the TA-700. All bearings are closed version to ensure no dirt or dust is affecting their lifetime.
The Armtube
When it comes to arm tubes - 2 mutually exclusive conditions need to be combined. Maximum stiffness and low resonance achieved by internal damping. Very stiff materials are hard and therefore very susceptible to resonances. On the other side Low-resonance materials are not stiff enough. The solution at the TA-700 is a pressed Alu bar. This bar is very rigid because of the high pressure applied during manufacturing. Then we drill a hole into it and add the outside contur. This creates a very rigid tube but still having a high damping and resonance poverty and it comes with reasonable low weight.

The Cable
When you consider that the signals of a pickup are very small you can well imagine, any mistake in selecting cables makes the signal worse. So we have gone for the cabling of the TA 700, to a Audioquest cable direct connected to the RCA connectors. For customers who like to try different external cables the TA 700 is also available with 5 pin connector in the arm shaft.
VTA alignment
The TA-700 comes with a easy to use height alignment construction. By simply opening one screw the clamping mechanism opens and the arm can be moved up or down. Closing the screw locks the TA-700 at his position. The mechanism connects with nearly 360 degrees to the arm shaft - so no micro movements are possible.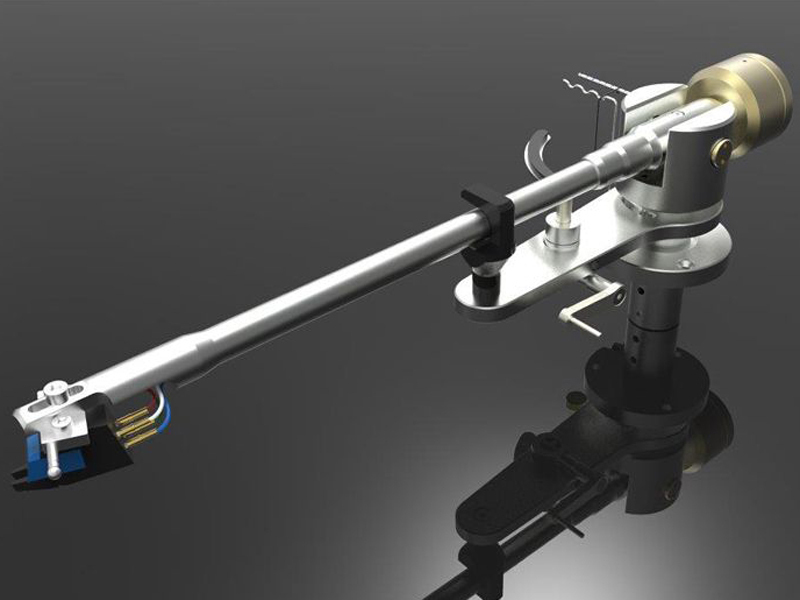 Technical data
LENGTH

9 Inch 252 mm

CARTRIDGE RANGE

from 4 g - 16.0 g

ZERO POINTS

61.0mm

121.0mm

SIGNALCABLE

Cooper

OVERHANG

15

EFFECTIVE LENGTH

9 inch 237 mm

Mounting Distance

9 inch 222 mm

Effektive Mass

9 Zoll: 10,2 gr.

Mounting holes

Rega Style- SME as a option

WEIGHT

680 gr
Sản phẩm khác